Profile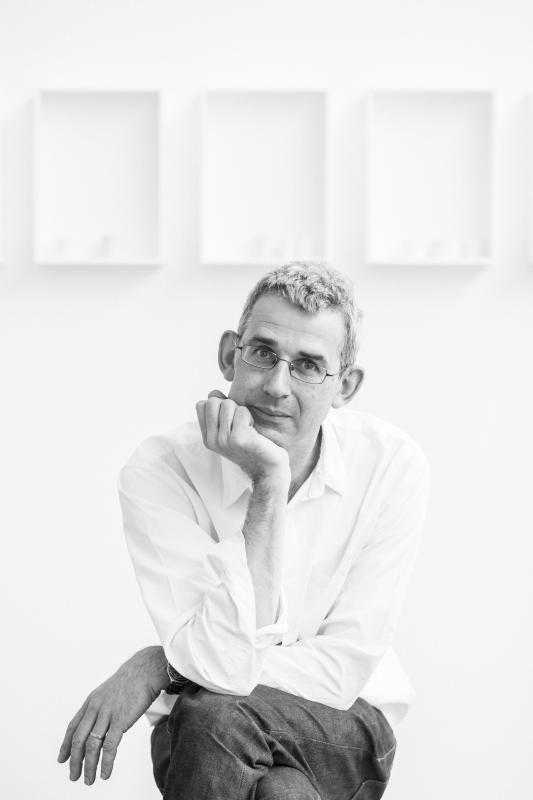 About
Edmund de Waal is an internationally acclaimed artist and writer, best known for his installations of porcelain vessels housed in minimal structures, often created in response to collections and archives or the history of a particular place. Both his written and artistic practice have broken new ground through their critical engagement with the history and potential of ceramics, as well as with architecture, music, dance and poetry. De Waal continually investigates themes of diaspora, memorial, materiality and the colour white with his interventions and artworks made for diverse historic spaces and museums worldwide.
Recent museum exhibitions include a response to the Italian painter Giorgio Morandi at Artipelag, Stockholm (2017); to the writings of Voltaire for Lettres de Londres at Espace Muraille, Geneva (2017); and the collection of the Kunsthistoriches Museum, Vienna, curated on the theme of anxiety (2016). A collaboration with Ai Weiwei led to a co-curated project, Kneaded Knowledge, shown both at the National Gallery in Prague and Kunsthaus, Graz (2016). De Waal's relationship with porcelain and white was the focus of a series of exhibitions including white at the Royal Academy of Arts, London (2015); On White at the Fitzwilliam Museum, Cambridge (2013); and Lichtzwang for the Theseus Temple, Vienna (2014). In 2015, de Waal made two exhibitions on seascapes and weather; one for the Pier Arts Centre, Orkney, titled wavespeech, and a major installation, atmosphere, for Turner Contemporary, Margate.
His most recent solo gallery shows include ten thousand things at Gagosian, Beverly Hills (2016) and Irrkunst at Galerie Max Hetzler with the Walter Benjamin Archive, Berlin (2016). The poetry of Paul Celan is a constant touchstone and most profoundly so for Atemwende, his first solo show with Gagosian in New York (2013). Among his works on permanent display are; the collector (for Paul) (2015) and Signs & Wonders (2009) at the V&A Museum, London; an idea (for the journey) (2013) at the Rijksmuseum, Amsterdam; a local history (2012) at the University of Cambridge; and a sounding line for Chatsworth House, Derbyshire (2007).
His first set design will feature in the 2017/18 Season at the Royal Opera House for a new ballet by choreographer Wayne McGregor as part of the international celebrations of the Leonard Bernstein centenary.
De Waal is also renowned for his family memoir, The Hare with Amber Eyes (2010), which won many literary prizes including the RSL Ondaatje Prize and the Costa Biography Award and has been translated into over 30 languages. In 2016, it was chosen as the Independent Bookshop Week's Book of the Decade. His second book, The White Road was published in 2015. Other books include The Pot Book (2011), 20th Century Ceramics (2003) and de Waal's critical study on Bernard Leach for Tate (1997).
De Waal was made an OBE for his services to art in 2011. In 2015 he was awarded the Windham-Campbell Prize for non-fiction by Yale University. He has received honorary doctorates from the University of the Arts London, Nottingham, Sheffield, York and Canterbury Christ Church universities and is an Honorary Fellow of Trinity Hall, Cambridge. De Waal is on the Advisory Committee for The Royal Mint and is a Trustee for the V&A Museum, the Gilbert Trust and The Saturday Club Trust. He is also a Patron of Paintings in Hospitals.
Edmund de Waal was born in 1964 in Nottingham. He lives and works in London.
Biography
| | |
| --- | --- |
| Present | Patron of Paintings in Hospitals |
| Present | Trustee of the Victoria and Albert Museum, London |
| Present | Trustee of The Saturday Club Trust, London |
| 2016 | Honorary Doctorate, University of York |
| 2015 | Windham-Campbell Prize for Non-Fiction, Yale University |
| 2014 | Honorary Doctorate, University of Nottingham |
| 2014 | Honorary Doctorate, Canterbury Christ Church University |
| 2013 | Honorary Doctorate, University of the Arts, London |
| 2013 | Honorary Doctorate of Letters, University of Sheffield |
| 2012 | Senior Fellowship, Royal College of Art, London |
| 2012 | Member of the Advisory Committee for The Royal Mint |
| 2011 | Officer of the Order of the British Empire (OBE) for Services to the Arts |
| 2011 | Costa Biography Award, Royal Society of Literature Ondaatje Prize |
| 2009 | Honorary Fellow, Trinity Hall, University of Cambridge |
| 2004-2010 | Chair of Trustees, Crafts Study Centre, Farnham |
| 2003 | Silver Medal, World Ceramics Exposition, Icheon, Korea |
| 1999-2001 | Fellowship, The Leverhulme Trust |
| 1996 | Fellow of the Royal Society of Arts |
| 1991-1993 | Daiwa Anglo-Japanese Foundation Scholarship |
| 1991–1992 | Post-graduate Diploma in Japanese Language, University of Sheffield |
| 1983–1986 | BA Hons. English Literature (First Class), Trinity Hall, University of Cambridge |
| 1985 | Scholarship, Trinity Hall, University of Cambridge |
| 1981–1983 | Apprenticeship with Geoffrey Whiting, Canterbury |
Selected solo exhibitions and installations
2018
the poems of our climate. Gagosian Gallery, San Francisco
– one way or other –. The Schindler House, Los Angeles
white island, Museo de Arte Contemporáneo de Ibiza, Ibiza
Early work: vessels from the Rosenheimer Collection. New Art Centre, Wiltshire
Yugen, set design for Wayne McGregor's ballet at the Royal Opera House, London
2017
Morandi / Edmund de Waal, Artipelag, Stockholm
Lettres de Londres, Espace Muraille, Geneva
2016
During the Night. Kunsthistorisches Museum, Vienna
Kneaded Knowledge: The Language of Ceramics. Kunsthaus Graz, Graz
Irrkunst. Galerie Max Hetzler, Berlin
ten thousand things. Gagosian Gallery, Beverley Hills
2015
white. Royal Academy of Arts, London
If we attend. Pallant House Gallery, Chichester
2014
Atmosphere. Turner Contemporary, Margate
Lichtzwang. Theseus Temple, Vienna
another hour. Southwark Cathedral, London
2013
Atemwende. Gagosian Gallery, New York
On White: Porcelain Stories from the Fitzwilliam Museum. Fitzwilliam Museum,
Cambridge
2012
a thousand hours. Alan Cristea Gallery, London
a local history. Alison Richard Building, University of Cambridge, Cambridge
Edmund de Waal at Waddesdon. Waddesdon Manor, Buckinghamshire
2010
From Zero. Alan Cristea Gallery, London
night works. New Art Centre, Salisbury
2009
Signs & Wonders. Victoria & Albert Museum, London
Very Moveable Things: An Intervention. Cheltenham Art Gallery and Museum,
Gloucestershire
2007
A Sounding Line. Chatsworth House, Derbyshire
Edmund de Waal at Kettle's Yard, mima and elsewhere. Kettle's Yard, Cambridge; Middlesbrough Institute of Modern Art, Middlesbrough
2006
Vessel, perhaps. Millgate Museum, Newark-on- Trent
2005
A line around a shadow. Blackwell: The Arts & Crafts House, Bowness-on-Windermere
Arcanum: mapping 18th-Century European porcelain. National Museums and Galleries of Wales, Cardiff
2004
Porcelain Room. Kunstindustrimuseet, Copenhagen
2002
A Long Line West. Egg, London
Porcelain Room. Geffrye Museum, London
1999
Modern Home. High Cross House, Dartington Hall, Devon
1998
Egg, London
Selected group exhibitions
2018
Samla, sortera, ta hand om, RIAN Design Museum, Falkenberg, Sweden
The Precious Clay: Contemporary art and porcelain at the Museum of Royal Worcester, Museum of Royal Worcester
2017
Orchestra of Letters, The Lettering Arts Centre, Snape Maltings
Things of Beauty Growing: British Studio Pottery, Yale Center for British Art, New Haven
Benjamin and Brecht. Thinking in Extremes, Academy of Arts, Berlin
2016
la mia ceramica. Galerie Max Hetzler, Paris
Seeing Round Corners. Turner Contemporary, Margate
FOUND. Foundling Museum, London
Artificial Realities. The Courtauld Institute of Art, London
Generosity: On the Art of Giving. Kinsky Palace, Prague
2015
CERAMIX. Cité de la céramique, Sèvres; Bonnefantenmuseum, Maastricht
Resistance and Persistence. Ingleby Gallery, Edinburgh
Modern Japanese Design. Manchester Art Gallery, Manchester
the lost and the found: work from Orkney. New Art Centre, Salisbury
wavespeech. Pier Arts Centre, Orkney
Magnificent Obsessions: The Artist as Collector. Barbican Art Gallery, London; Sainsbury Centre for Visual Arts, Norwich
Chromophobia. Gagosian Gallery, Geneva
2014
Then and Now. Galerie Max Hetzler, Berlin
Group Show. Gagosian Gallery, Paris
2010
The Artists' House. New Art Centre, Roche Court, Salisbury
2009
Kettle's Yard at Tate Britain. Tate Britain, London
2008
Inside/Outside. New Art Centre, Roche Court, Salisbury
2007
The Long View. New Art Centre, Roche Court, Salisbury
Garry Fabian Miller & Edmund de Waal. Ingleby Gallery, Edinburgh
2006
Still Life. New Art Centre, Roche Court, Salisbury
2005
Premio Faenza: The International Competition of Ceramic Art, Museo
Internazionale delle Ceramiche, Faenze, Italy
Transformations: Language of Craft. National Gallery of Australia, Canberra
2004
A Secret History of Clay. Tate Liverpool, Liverpool
Selected catalogues and monographs
2016
During the Night. Kunsthistorisches Museum, Vienna. Texts by Lisa Appignanesi, Jasper Sharp and Edmund de Waal
Kneaded Knowledge: The Language of Ceramics. Kunsthaus Graz, Graz. Texts by
Peter Pakesch and Edmund de Waal
Irrkunst. Galerie Max Hetzler, Berlin. Text by Edmund de Waal
ten thousand things. Gagosian Gallery, Beverley Hills. Text by Joan Simon
2015
white. Royal Academy of Arts, London. Text by Edmund de Waal
2014
Atmosphere. Turner Contemporary, Margate. Text by Edmund de Waal
Edmund de Waal. Phaidon, London. Texts by Emma Crichton-Miller, Colm Toíbín, Peter Carey, A.S. Byatt, Alexandra Munroe, Deborah Saunt and Edmund de Waal
2013
Atemwende. Gagosian Gallery, New York. Text by Adam Gopnik
On White: Porcelain Stories from the Fitzwilliam Museum. Fitzwilliam Museum,
Cambridge. Text by Edmund de Waal
2012
a thousand hours. Alan Cristea Gallery, London. Text by Colm Toíbín
Edmund de Waal at Waddesdon Manor. Waddesdon Manor, Buckinghamshire. Text by Juliet Carey and Edmund de Waal
2010
From Zero. Alan Cristea Gallery, London. Text by A.S. Byatt
2009
Signs & Wonders. Victoria and Albert Museum, London. Texts by Alun Graves,
Glenn Adamson and Edmund de Waal
2007
Edmund de Waal at Kettle's Yard, mima and elsewhere. Kettle's Yard, Cambridge;
Middlesbrough Institute of Modern Art, Middlesbrough. Texts by Jorunn
Veiteberg, Helen Waters and a conversation between David Hills, Elizabeth Fisher and Edmund de Waal
2005
Edmund de Waal: A line around a shadow. Blackwell House: The Arts & Crafts House, Bowness-on- Windermere. Texts by Alun Graves and Simon Olding

Arcanum: mapping 18th century European porcelain. National Museums and Galleries of Wales, Cardiff. Texts by Sebastian Kuhn, James Putnam, Edmund de Waal and a conversation between Jorunn Veiteberg and Bodil Busk Laursen
2004
A Secret History of Clay: From Gauguin to Gormley. Tate Liverpool, Liverpool. Texts by Simon Groom, Edmund de Waal and interviews with James Putnam and Antony Gormley
1999
Modern Home. High Cross House, Dartington Hall, Devon. Texts by Mike Tooby and Edmund de Waal
Selected public collections
Ashmolean Museum, Oxford
Banque Paribas, London
Birmingham Museum and Art Gallery
British Council, London
Cartwright Hall, Bradford
Contemporary Arts Society, London
Crafts Council, London
Crafts Study Centre, Farnham
Dimensional, London
Fidelity, London
Fidelity, Luxembourg
Fitzwilliam Museum, Cambridge
Geffrye Museum, London
Government Art Collection, London
Heythrop College, London
IBM Collection, Copenhagen
Ismay Collection, Yorkshire Museum
Los Angeles County Museum of Art
Middlesbrough Institute of Modern Art
Middlebury College, Vermont
Mint Museum of Craft + Design, Charlotte, North Carolina
Museum für Angewandte Kunst, Frankfurt
Museum of Arts and Design, New York
Museum of Decorative Arts, Montreal
Museum of Fine Arts, Houston
St Georges' Hospital, London
Museum of Western Australia, Perth
National Museum of Scotland, Edinburgh
National Museum and Galleries of Wales, Cardiff
Pier Arts Centre, Orkney
Schroeder's Bank, London
Shipley Art Gallery, Gateshead
Stoke-on-Trent Museum
The Daiwa Anglo-Japanese Foundation, London
The University Church of Christ the King, London
Trinity Hall, Cambridge
Victoria & Albert Museum, London
Walker Art Gallery, Liverpool
World Ceramic Exposition Museum, Ichon, Korea
York Museum and Art Gallery