Reading guide
There is a vast literature on porcelain, its manufacture and consumption. This is a guide to those texts that I have found most useful, with signposts towards books and articles that may prove illuminating.
During my initial research, the key texts I used were the letters of Pere d'Entrecolles. The original French texts can be found in Description géographique, historique…de l'Empire de la China et de la Tartarie Chinoise, enrichie de cartes genérales et particulières, compiled by Jean-Baptiste Du Halde (Paris, 1735). An abridged translation of these can be found in Ching-te-chen, Views of a Porcelain City, Robert Tichane, (Painted Post, New York, 1983). The full text can also be found online here.
D'Entrecolles other writings are discussed in Francois-Xavier Dentrecolles et l'apport de la Chine a l'Europe du XVIIIe Siecle, Mme Yves de Thomaz de Bossierre (Belles Lettres, Paris, 1982).
Translations of the T'ao Shu can be found in Description of Chinese pottery and porcelain, being a translation of the T'ao Shuo, Stephen W. Bushell (Clarendon Press, Oxford, 1910); Ching-tê-chen, T'ao-Lu, or the potteries of China, trans. Geoffrey R. Sayer (Routledge and Keegan Paul, London, 1951); T'ao Ya, or pottery refinements, trans. Geoffrey R. Sayer (Routledge & Kegan Paul, London, 1959).
– Edmund de Waal


Some good general histories on porcelain include:
The pilgrim art: cultures of porcelain in world history, Robert Finlay (University of California Press, Berkley, 2010); Porcelain Stories: From China to Europe, ed.
Julie Emerson, Jennifer Chen, Mimi Gardner Gates, University of Washington Press, Seattle and London, 2000, Collecting China: the World, China and a History of Collecting ed. Vimalin Rujivacharakul, University of Delaware Press, Lanham, 2011, Porcelain, Its nature, art and manufacture William Burton, B.T. Batsford, London, 1906 The Chinese Potter: a practical history of Chinese ceramics Margaret Medley, Phaidon, Oxford, 1976 and Chinese Ceramics: A design history Stacey Pierson, V&A Publishing, London, 2009
The most comprehensive general history of the technology of porcelain is Science and Civilisation in China: vol. 5, part 12, Chemistry and Chemical Technology by Joseph Needham, ed. Rose Kerr and Nigel Wood, Cambridge University Press, Cambridge, 2004. The Transactions of the Oriental Ceramics Society have also proved an invaluable resource.
Prologue
Texts that explore early Chinese porcelain in Europe, the Fonthill Vase and William Beckford include:
Chinese porcelain in medieval Europe, David Whitehouse (Medieval Archaeology, vol. 16, 1972, pp.63–78)
Chinese porcelain Jar in the Treasury of San Marco, Venice, O.C. Raphael (Transactions of the Oriental Ceramic Society, vol. 10, 1931/2, pp.13–15)
The Gagnières-Fonthill vase: A Chinese porcelain of about 1300, Arthur Lane (The Burlington Magazine, vol. 103, April, London, 1961, pp.124–131)
An inventory dated 1689 of the Chinese porcelain in the collection of the Grand Dauphin, son of Louis XIV, at Versailles, Francis Watson and John Whitehead (Journal of the History of Collections, 3, no. 1, 1991, pp.13–52)
The Valuable Library of Books in Fonthill Abbey…[also of] the rare oriental, Japan & Sevres china, John Farquhar of Fonthill (J. Davy, London, 1823)
The travel-diaries of William Beckford of Fonthill, William Beckford (ed. Guy Chapman, Constable & Co, Cambridge, 1928); Recollections of the late William Beckford of Fonthill, Wilts and Lansdown, Bath, Henry Venn Lansdown (Kingsmead Reprints, Bath, 1969).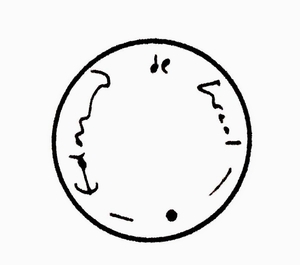 Part one
For literature on the culture of Chinese porcelain and the Kangxi Emperor see:
Song Dynasty Ceramics, Rose Kerr (V&A Publishing, London, 2004)
Early Ming wares of Chingtechen, A.D. Brankston (Henri Vetch, Beijing, 1938)
Superfluous Things: material culture and social status in Early Modern China, Craig Clunas (Polity Press, Cambridge, 1991)
The Confusions of Pleasure: Commerce and Culture in Ming China, Timothy Brook (University of California Press, Berkley and Los Angeles, 1998)
Ten Thousand Things: Module and Mass Production in Chinese Art, Lothar Ledderose (Princeton University Press, Princeton, 2000)
Economic change in seventeenth century China and innovations at the Jingdezhen kilns, Stephen Little (Ars Orientalis, vol. 26, 1996, pp.47–54)
Lang Tingji (1663–1715) and the porcelain of the late Kangxi period, Peter. Y. K. Lam (Transactions of the Oriental Ceramics Society, 2003–04, pp.27–49)
Glorious Innovations: Imperial porcelains of the Kangxi Era, Anthony Lin (Arts of Asia, vol.31, part 4, 2001, pp.28–40)
China in 1700: Kangxi porcelains at the Taft Museum, ed. Sheila Keppel (Taft Museum, Cincinnati, 1988)
Emperor of China: Self-portrait of K'ang-hsi, Jonathan D. Spence (Jonathan Cape, London, 1988)
The Emperor's New Mathematics, Western learning and Imperial authority during the Kangxi Reign (1622–1722), Catherine Jami (Oxford University Press, Oxford, 2012).
For the Jesuits and China, the key texts are
The General History of China, Jean Baptiste du Halde, trans. R. Brookes, 4 vols. (J. Watts, London, 1741)
De Christiana expeditione apud Sinas suscepta ab Societate Jesu, Matteo Ricci (Augustæ Vindelicorum, 1615)
Lettres édifiantes et curieuses, écrites des missions étrangères, ed. C. Le Gobien (Nouvelle edition, Paris, 1781)
Het Gezantschap der Nêelandtsche Oost-Indische Compagnie aan den grooten Tartarischen Cham den tegenwoordigen Keizer van China, Johannes Nieuhof (Amsterdam, 1665)
Memoirs and Observations: Topographical, physical, mathematical, mechanical, natural, civil and ecclesiastical. Made in a late journey through the Empire of China, Louis le Comte, trans. (Chez Jean Anisson, Paris, 1697)
Mission to China: Matteo Ricci and the Jesuit Encounter with the East, Mary Laven (Faber & Faber, London, 2011)
Journey to the East: the Jesuit mission to China, 1579–1724, Liam Matthew Brockey (Belknap Press of Harvard University Press, Cambridge, 2007)
Sojourners in a strange land: Jesuits and their scientific missions in late Imperial China, Florence C. Hsia (University of Chicago Press, Chicago, 2009)
Jesuit Missionaries and the porcelains of Jingdezhen, Rosemary E. Scott (For the Imp-ess, Cambridge, 1976–2015).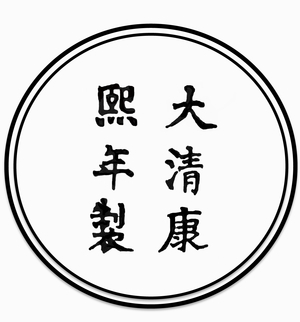 Part two
On the history of French and German porcelain in the eighteenth-century see:
Shapely Bodies: The Image of Porcelain in Eighteenth Century France, Christine A. Jones (University of Delaware Press, Newark, 2013)
Discovering the secrets of soft paste porcelain at the Saint-Cloud Manufactory, ca.1690–1766, ed. Betrand Rondot (Yale University Press for the Bard Graduate Center, New York, 1999)
Porcelain for Palaces: The Fashion for Japan in Europe, 1650–1750, John Ayers, Oliver Impey, J.V.G. Mallet (Oriental Ceramic Society, London, 1990)
French porcelain of the eighteenth century at the V&A, Christopher Maxwell (V&A Publishing, London, 2010)
Dragons, Tigers and Bamboo: Japanese porcelain and its impact in Europe Oliver Impey, Christiaan J.A. Jörg, Charles Mason (Gardiner Museum, Douglas & McIntyre, Vancouver, 2009)
French Porcelain of the 18th Century, William Bowyer Honey (Faber & Faber, London, 1950)
The French Porcelain Society Journal (Wallace Collection, London, 2003). 
For texts on Leibniz, Tschirnhaus and the history of glass and optics:
Leibniz and China: A Commerce of Light, Franklin Perkins (Cambridge University Press, Cambridge, 2004)
Moral enlightenment: Leibniz and Wolff on China, ed. Julia Ching and Willard G. Oxtoby (Maney Monumenta Serica, Journal of Oriental Studies, 1992
The Preface of Leibniz's Novissima Sinica: Commentary, Translation, Text, compiled Donald F. Lach (University of Hawaii, Honolulu, 1957)
Discourse on the Natural Theology of the Chinese, Gottfried Wilhelm Leibniz, ed. Donald F. Lach, (University of Hawaii, Honolulu, 1977)
Leibniz's exchange with the Jesuits in China, Franklin Perkins (Leibniz and his Correspondents, ed. Paul Lodge, Cambridge University Press, Cambridge, 2004, pp.141–161)
Experimente mit dem Sonnenfeuer: Ehrenfried Walther von Tschirnhaus, 1651–1708, ed. Wolfram Dolz (Staatliche Kunstsammlungen, Dresden, 2001)
Art of the Royal Court: treasures in the Pietre Dure from the palaces of Europe, ed. Wolfram Koeppe (Yale University Press, New Haven & London, 2008)
Glass of the Alchemists: lead crystal-gold ruby, 1650–1750, ed. Dedo von Kerssenbrock- Krosigk (Corning Museum of Glass, Corning, New York, 2008)
Brennspigel und Brennglaeser von Ehrenfried Walther von Tschirnhaus, Klaus Schillinger (Mathematisch-Physikalischer Salon, Dresden, 1983)
Glass exchange between Europe and China, 1500–1800: diplomatic, mercantile and technological interactions, Emily Byrne Curtis (Ashgate, Farnham, 2009).
On Meissen, alchemy and Dresden:
Johann Friedrich Böttger: Vom Alchemistengold zum weissen Porzellan, Klaus Hoffmann (Verlag Neues Leben, Berlin DDR, 1985)
Das Weisse Gold von Meissen, Klaus Hoffman (Scherz Verlay, Bern & München, 1989); Der Goldmacher Joh. Fr. Bottger, Eugen Kalkschmidt (Died & Co, Stuttgart, 1926)
The Arnhold Collection of Meissen Porcelain, 1710–50, ed. Maureen-Cassidy Geiger (D. Giles, London, 2008)
Fragile Diplomacy: Meissen porcelain for European courts, c.1710–63, ed. Maureen Cassidy- Geiger (Yale University Press, New Haven & London, 2007)
Bericht über die Porzellanmanufaktur Meissen von den Anfängen bis zum Jahre 1717, Johann Melchior Steinbrück, ed. Inglelore Menzhausen (Edition Leipzig, Leipzig, 1982)
The Arcarnum, Janet Glesson (Bantum Press, London, 1998)
Early Meissen porcelain in Dresden, Ingelore Menzhausen (Thames & Hudson, London, 1990)
Triumph of the blue swords: Meissen porcelain for aristocracy and bourgeoisie, 1710–1815, ed. Ulrich Pietsch and Claudia Banz (Staatliche Kunstsammlungen Dresden, E.A. Seemann, Leipzig, 2010)
Early Meissen porcelain, Ulrich Pietsch (The Cummer Museum of Art & Gardens, D. Giles, London, 2011)
Court culture in early modern Dresden, Helen Watanabe-O'Kelly (Palgrave, Basingstoke, 2002)
The small German courts in the eighteenth century, Adrien Fauchier-Magnan (Methuen & Co Ltd, London, 1947)
Das Alte Dresden, Fritz Löffler (Sachensverlag, Dresden, 1955)
Alchemy and Authority in the Holy Roman Empire, Tara Nummedal (University of Chicago Press, Chicago, 2007)
Distilling Knowledge: Alchemy, Chemistry and the Scientific Revolution, Bruce T. Moran (Harvard University Press, Cambridge, MA, 2005).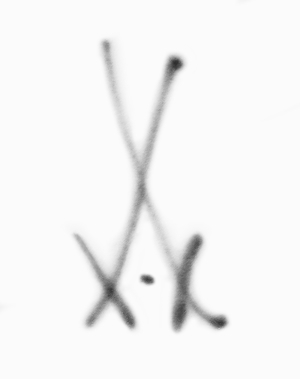 Part three
On the history of English porcelain, William Cookworthy and Emanuel Swedenborg see:
Eighteenth-century ceramics: products for civilised society, Sarah Richards, (Manchester University Press, Manchester & New York, 1999)
English Porcelain, 1745–95, Its makers, design, marketing and Consumption, Hilary Young (V&A Publications, London, 1999)
Cookworthy, 1705–80 and his circle, A. Douglas Selleck (Baron Jay, Plymouth, 1978)
Cookworthy's Plymouth & Bristol porcelain, F. Severne MacKenna (F. Lewis Publishers, Leigh-on-Sea, 1946)
William Cookworthy, 1705–1780, A study of the pioneer of true porcelain manufacture in England, John Penderill-Church, (D. Bradford Barton, Truro 1972)
William Cookworthy, Theodore Compton (E. Hicks, London, 1895)
A Second Appendix to the Memoir of William Cookworthy, by his Grandson, George Harrison (William & Frederick G. Cash, London, 1854)
The Story of William Cookworthy: maker of porcelain and man of peace, Hubert C. Fox (Pearson & Lloyd, Southampton, 1995)
Relics of William Cookworthy: discover of Cornish china-clay and stone, about A.D. 1755, William Cookworthy (ed. John Prideaux, Whittaker & Co, London, 1853)
Plough Court: the story of a notable pharmacy, 1715–1927, Ernest Cripps (Allen & Hanbury, London, 1927)
A Treatise concerning Heaven and Hell, containing a relation of many wonderful things therin, as heard and seen by the author. Now translated from the original Latin by W. Cookworthy and T. Hartley, Emanuel Swedenborg (James Phillips, London, 1778).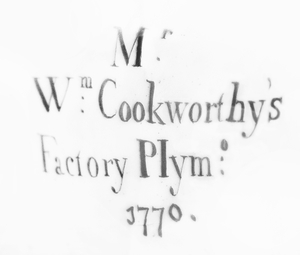 Part four
On Richard Champion and Josiah Wedgwood:
Two centuries of ceramic art in Bristol, being a history of the manufacture of 'The True Porcelain', by Richard Champion, Hugh Owen (John Bellows, Gloucester, 1873)
The Letterbooks of Richard Champion, 1760–75, ed. W.E. Minchinton, (Bristol Record Office, New York Public Library, 1986)
New Hall, David Holgate (Faber & Faber, London, 1987)
The Plymouth porcelain factory: letters to Thomas Pitt, 1766–69, Geoffrey Wills (Canterbury Ceramic Circle, 1998)
Josiah Wedgwood's Journey into Cornwall, ed. by Geoffrey Wills, vol. 1 (Proceedings of the Wedgwood Society, London, 1957)
The Genius of Wedgwood, ed. Hilary Young (V&A Publications, London, 1995)
Letters of Josiah Wedgwood, 1735–95, Josiah Wedgwood (ed. Katherine Euphemia Farrar, Wedgwood Museum, Manchester, 1973)
The Lunar Men: The friends who made the future, 1730–1810, Jenny Uglow (Faber & Faber, London, 2003)
The life of Josiah Wedgwood, Eliza Meteyard 
For Cornwall and mining, and for Stoke-on-Trent:
Mineraologia Cornubiensis, William Pryce (J. Phillips, London, 1778)
A history of the Cornish china-clay industry, Rita Margaret (Barton, D. Bradford Barton, Truro, 1966)
From mineralogy to geology: the foundations of a Science, 1650–1830, Rachel Laudan (The University of Chicago Press, Chicago & London, 1987)
Cornish Mining: essays on the organisation of Cornish mines and the Cornish mining economy, ed. Roger Burt (David & Charles, Newton Abbot, 1969)
Children's Employment Commission: Appendix to the Second Report of the Commissioners, trades and manufactures, Part I. Reports and Evidence from the Sub-Commissioners, (William Clowes & Sons, London, 1842)
The Potteries Examiner: Devoted to the interests of labour (Stoke-on-Trent, 1871–1874).
On South Carolina:
Cherokee Clay, from Duché to Wedgwood: The Journal of Thomas Griffiths, 1767–1768, William L. Anderson (The North Carolina Historical Review, vol. 63, No. 4, October, pp. 477–510)
Art of Cherokee: prehistory to the present, Susan C. Power (University of Georgia Press, Athens, 2007)
Red Brick, Black Mountain, White Clay: Reflections on Art, Family and Survival, Christopher Benfey (Penguin, New York, 2012)
Cherokees in Transition: a study of changing culture and environment prior to 1775, Gary C. Goodwin (University of Chicago Press, Chicago, 1977)
The Concise Encyclopedia of American Antiques, ed. Helen Comstock (The Connoisseur, London, 1958). 


Part five
On Jingdezhen, 1910–1940, and Mao:
Battle Hymn of China, Agnes Smedley (Victor Gollancz, London, 1944)
Wandering in Northern China, Harry Alverson Franck (Century Company, New York & London, 1923)
The World's Ancient Porcelain Center, Frank B. Lenz (The National Geographic, November, 1920, pp.391–406)
Labour and Precariousness in China's Porcelain Capital, Maris Boyd Gillette (Anthropology of Work Review, July, 2014, pp.25–39)
Copying, Counterfeiting, and Capitalism in Jingdezhen's Porcelain Industry, Maris Boyd Gillette (Modern China, vol.36, no.4, 2010, pp.367–403)
Mao: Art for the Masses, Revolutionary Art of the Mao Zedong Era, 1950–1976, ed. Hongxing Zhang (National Museums of Scotland, Edinburgh, 2003)
Mao Cult, Rhetoric and Ritual in China's Cultural Revolution, Daniel Leese (Cambridge University Press, Cambridge, 2011)
Mao's Great Famine: the history of China's most devastating catastrophe, 1958–62, Frank Dikötter (Bloomsbury, London, 2010)
China: A Modern History, Michael Dillon (I.B. Tauris, London, 2010)
Cohort mortality study in three ceramic factories in Jingdezhen in China, Xiaokang Zhang et al (Journal of Huazhong University of Science and Technology, vol.28, issue 4, 2008, pp.386–390)
Art and Ideology in Revolutionary China, David Holm (Claredon Press, Oxford, 1991);
On Allach porcelain and Dachau:
Allach Porcelain, 1936–1945, Dennis R. Porell, 2 vols. (Schiffer Military History, Atglen, 2010)
Porzellan Manufaktur Allach (Verlag Porzellan-Manufaktur Allach-München GmbH, 1938–39)
Porcelain Allach, Michael J. Passmore (ed. Tony L. Oliver, T.L.O. Publications, Middlesex, 1972)
Die Porzellan-Manufaktur Allach-München GmbH, Gabriele Huber (Jonas Verlag, Marburg, 1992)
Die Porzellanmanufaktur München-Allach. Das Lieblingskind von Heinrich Himmler, Albert Knoll (Dachauer Hefte, KZ-Aussenlager-Geschichte und Erinnerung, Heft 15, 1999, pp.116–133)
München-Allach (Porzellanmanufaktur), Albert Knoll (ed. Wolfgang Benz et al, Terror und des Ort: Geschichte der nationalsozialistischen Konzentrationslager, C.H. Beck, Munich, 2005)
Die künstlerischen Aufgaben der SS-Porzellanmanufaktur Allach, Karl Diebtsch (Das Schwarze Korps, vol.5, Berlin, 6 April 1939, p.3)
Schönheit mit der SS-Rune. Allach, Aufgaben und Ziel, W. Autor (SS-Leithefte, vol.7, Berlin, 1941, pp.22–24)
Nazi-Porzellan als Glücksfall für die Häftlinge, Hans Landauer (ed. Jan Tabor, Kunst und Diktatur. Architektur, Bildhauereri, Malerei in Osterreich, Deutschland, Italien und Sowjetunion 1922–1956 (Ausstellungskatalog, Vienna, 1994, pp.600–608)
Art as politics in the Third Reich, Jonathan Petropoulos (University of North Carolina Press, Chapel Hill & London, 1996)
The Business of Genocide: The SS, Slave Labour, and the Concentration Camps, Michael Thad Allen (University of North Carolina Press, Chapel Hill & London, 2002)
The Dachau Concentration Camp, 1933–1945, Ludwig Eiber, Manfred Treml, Claus Grimm, trans. Paul Bowman (Comité International de Dachau, Dachau, 2005)
Die Wirtschaft der SS. Berlin, Hermann Kaienburg (Metropol, Berlin, 2003); evidence at the Nuremberg Trials can be found online here.